Tuesday, July 26, 2016
Posted by

Suzanne
at 7:46 PM
No comments:

Posted by

Suzanne
at 7:15 AM
No comments:

Wednesday, February 11, 2015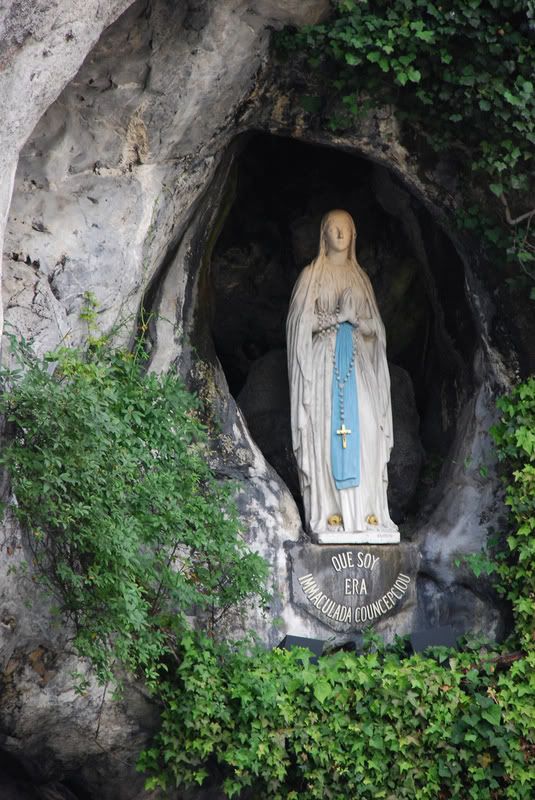 On February 11, 1858, the Blessed Virgin Mary appeared to a 14-year-old girl named Bernadette Soubirous (or Soubiroux) as she searched for firewood in the remote Grotto of Massabielle. More visions followed, for a total of 18, with the last occurring on July 16, 1858. The first occurred when Bernadette was playing with two friends. They had gone ahead of her along the river bank and she was about to follow when she became aware of a movement in the grotto, then of a golden cloud of light, and finally, to quote Bernadette, of "a lady, young and beautiful, exceedingly beautiful, the like of whom I had not seen before." The Virgin Mary told the young girl to drink from a natural fountain in the grotto (previously undiscovered) and to tell the priests to build a chapel on the spot and make processions to the grotto.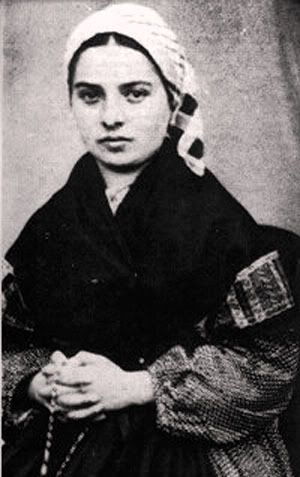 Bernadette later described what happened next, in giving her account of her first vision:



"She looked at me immediately, smiled at me and signed to me to advance, as if she had been my mother. All fear had left me, but I seemed to know no longer where I was. I rubbed my eyes, I shut them; but the lady was still there continuing to smile at me making me understand that I was not mistaken. Without thinking of what I was doing I took my rosary in my hands and went on my knees. The lady made with her head a sign of approval and herself took into her hands a rosary which hung on her right arm. When I attempted to begin the rosary and tried to lift up my hand to my forehead my arm remained paralysed, and it was only after the lady had signed herself (with the sign of the cross) that I could do the same. The lady left me to pray all alone; she passed the beads of her rosary through her fingers, but she said nothing; only at the end of each decade did she say the Gloria with me. When the recitation of the rosary was finished, the lady returned to the interior of the rock and the golden cloud disappeared with her."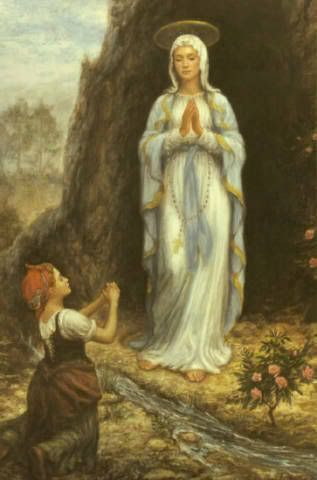 When Bernadette's friends returned to find her praying they teased her. When her mother learned the story from Bernadette' sister she scolded her and told her never to go near the grotto again. The young girl felt called by an inner voice to return to the grotto and at last her mother gave her permission. Her sister, her mother, and aunt and various other people accompanied her on her visits, and as the rumor spread crowds waited at the cave for her arrival. No one shared her experiences, and on 16th July they came to an end. Only two pieces of 'evidence' survived - a spring of water which had begun to flow at a place indicated by Mary during the ninth apparition, and Bernadette's conviction that she had really met the Virgin. Those who questioned her on behalf of the church authorities eventually accepted her account of the events she described.

Bernadette Soubirous became a nun, a member of the Sisters of Charity at Nevers in 1866, and died there after a long period of illness in 1879. She was canonized a saint in 1933. Like many saints, her body has remained miraculously preserved, and pilgrims to Nevers can view her body in a glass case.

It was only four years after Bernadette's visions in 1862, that the bishop of the diocese declared the faithful "justified in believing the reality of the apparition" and a basilica was built upon the rock of Massabielle by M. Peyramale, the parish priest.

A statue of the Madonna of Lourdes was erected at the site in 1864. In 1873 the great French pilgrimages to Lourdes were inaugurated. Three years later, the basilica was consecrated and the statue solemnly crowned.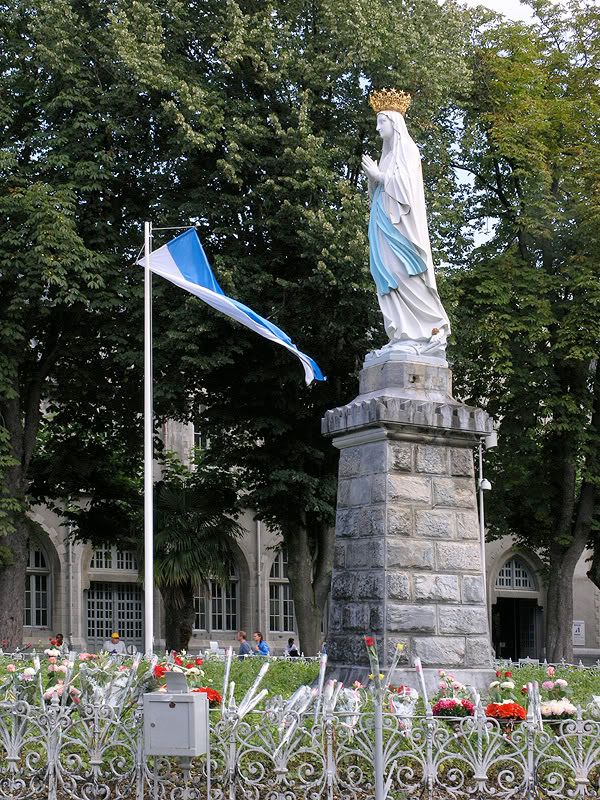 The picture below is of the Basilica of the Immaculate Conception, which still stands today. At the entrance on the right is a marble plaque containing the complete text of the judgment made by Mgr Laurence, recognizing the Apparitions as authentic.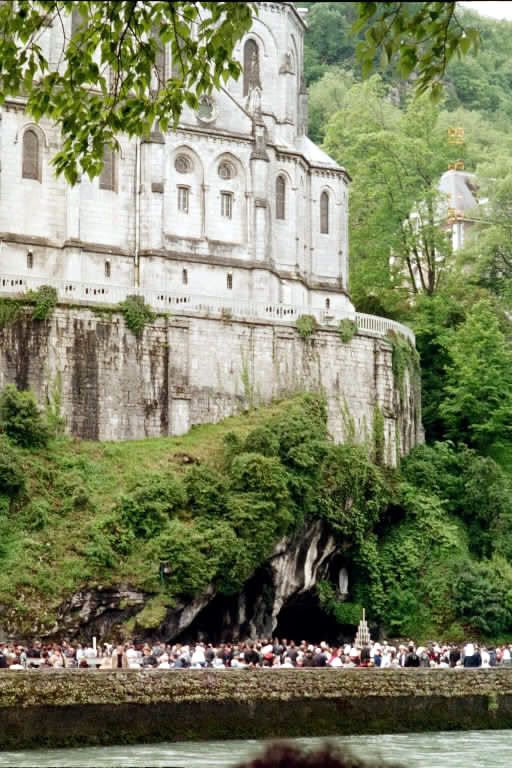 The sanctuary of the Basilica of the Immaculate Conception holds 500 worshippers. The altar is directly over the place of Apparition.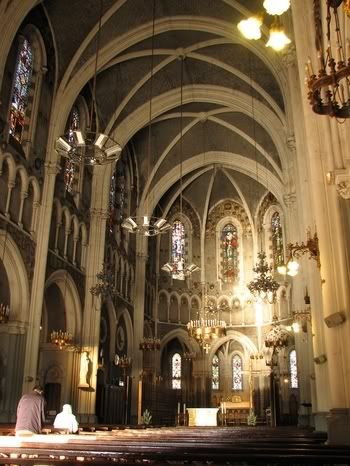 The stained glass windows recall the story of the Blessed Virgin from the beginning to the declaration of the Dogma of the Immaculate Conception, in 1854, by Pope Pius IX and of the Apparitions of Lourdes in 1858.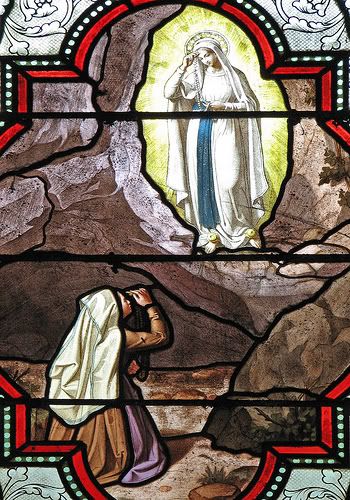 Every hour, the Basilica's bells play the "Ave Maria of Lourdes."

In 1883 the foundation stone of another church was laid, as the first was no longer large enough. Consecrated in 1901, it was built at the foot of the basilica and named the Basilica of the Rosary. The Basilica of the Rosary was built between 1883 and 1889 to replace the original chapel on the site of the apparitions of the Virgin Mary. It was consecrated in 1901. Designed in a Byzantine-influenced Romanesque style in the shape of a Greek (equal-armed) cross, the Rosary Basilica features two unique elliptical ramps embracing a square that can hold almost 80,000 people. Above the main doors of basilica, two mosaic circular panels made in the workshops of the Vatican depict Pope Leo XIII and Bishop Schoepfer of Tarbes and Lourdes (1899-1927).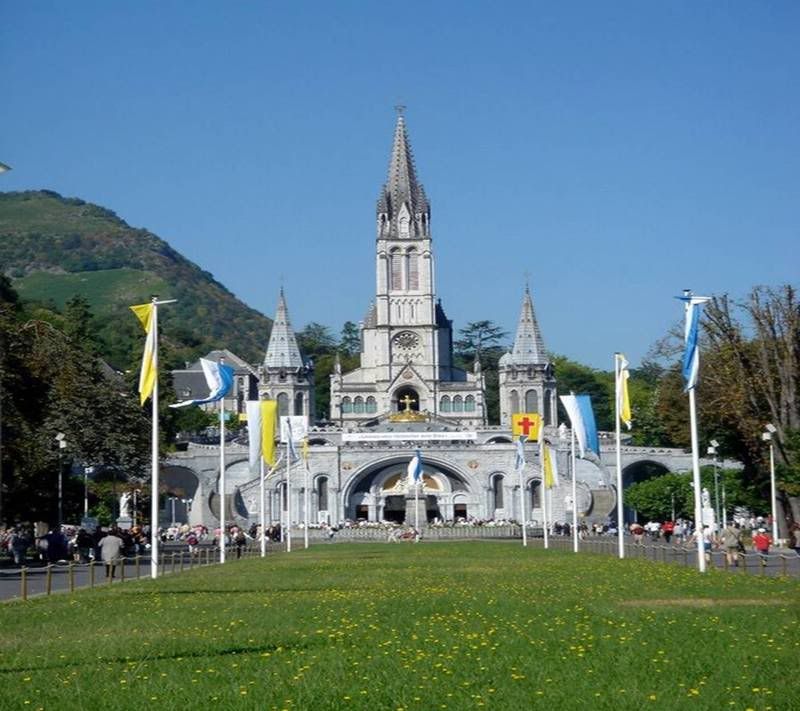 When she appeared at Lourdes, the Virgin Mary was described by St. Bernadette as holding a rosary in her hand. The Basilica of the Rosary is dedicated to this theme. Its three arches depict the joyful, sorrowful and glorious mysteries. Catholics meditate on these mysteries (events in the lives of Jesus and Mary) while saying the rosary. Around the central dome, the transepts and the sanctuary contain 15 Chapels of the Mysteries, which are decorated with mosaics depicting the 15 mysteries of the rosary (the five joyous, five sorrowful, and five glorious).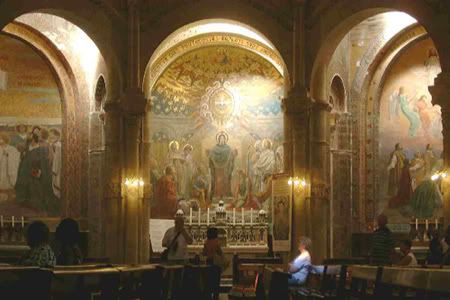 Faithful pilgrims, especially those in need of healing, flock to the Grotto of Massabielle to immerse themselves in the grotto's 17 pools - 6 for men and 11 for women. The spring water from the grotto is believed to possess healing properties, and the Roman Catholic Church occasionally officially recognizes miraculous healings.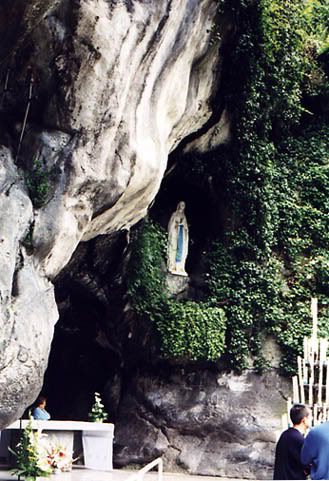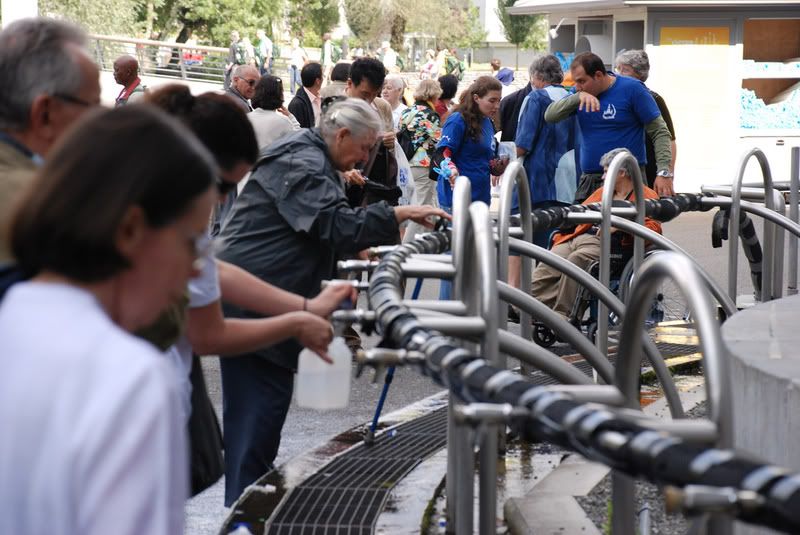 Long before Bernadette's death the little village of Lourdes had attracted the notice of the outside world. As early as 1864 the first organized pilgrimage took place and its popularity has increased spectacularly ever since. By 1908, fifty years after the appearances to Bernadette, it is estimated that five million pilgrims had been to the grotto. In 1958 the railway company serving the area said that a million travelers were then using it to reach Lourdes every year. The hotels of Lourdes provide accommodation for 30 000 people, about six times the village's own population. The centenary celebrations in 1958 and 1979 brought an especially large influx of pilgrims. To their number must be added the visitors who do not come as pilgrims, but who are attracted by a religious feeling or sometimes merely by the desire to see this far-famed spot.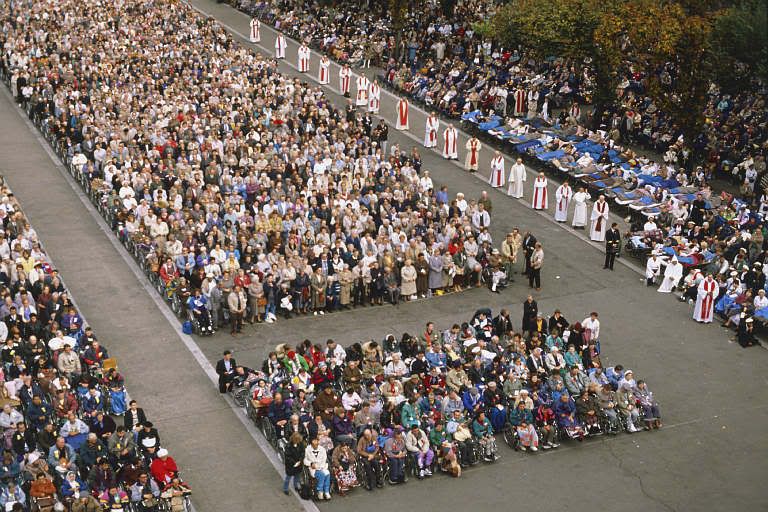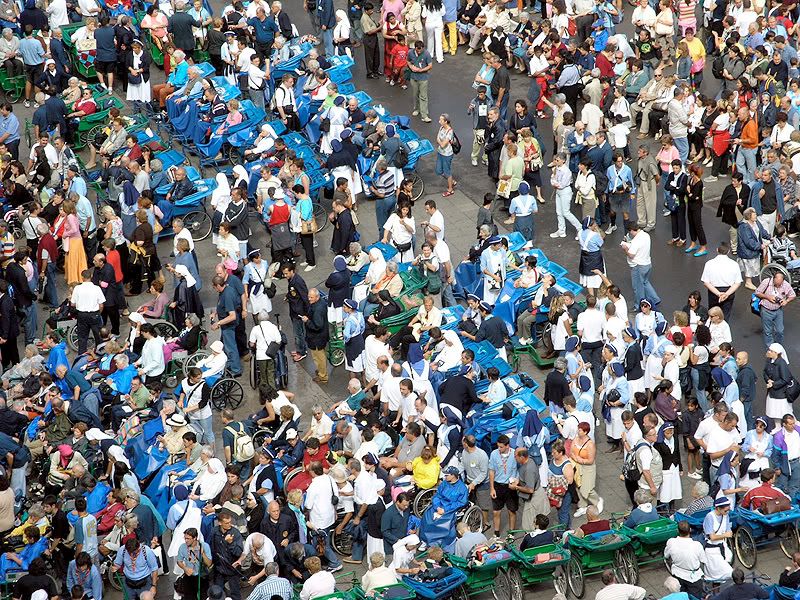 Many of the pilgrims who go to Lourdes are seriously ill or severely handicapped, for Lourdes, like Knock, has become a place where in numerous cases the sick have been restored to health. Between Easter and December each year two 'jumbulances' travel from Britain to Lourdes weekly. These are large ambulances, capable of carrying twenty-four passengers, including a doctor, three or four nurses, a chaplain, other helpers and about a dozen sick pilgrims.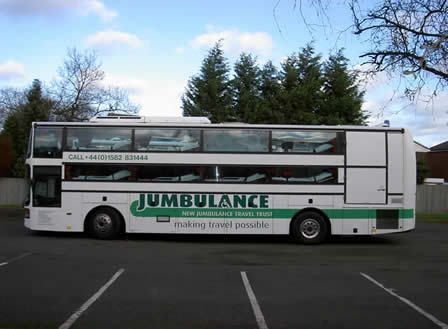 The ambulances pick up their sick passengers at motorway service stations and then take them to Lourdes, a journey of about twenty-one hours from London. The help given by the ambulance team is voluntary, and a trust also pays for the accommodation of the pilgrims at a chalet called 'Across' in Lourdes. Pilgrims come in an almost endless flow, interrupted only by the harsh winter weather between Christmas and Easter.




Every day during this period at 4:30pm, the Procession Eucharistique (Blessed Sacrament Procession) takes place, with pilgrims carrying banners along the Esplanade des Processions. Torch light processions are held nightly at 8:45 PM from the Massabielle Grotto. It can be a spectacular sight with the majestic snowcapped Pyrenees in the background.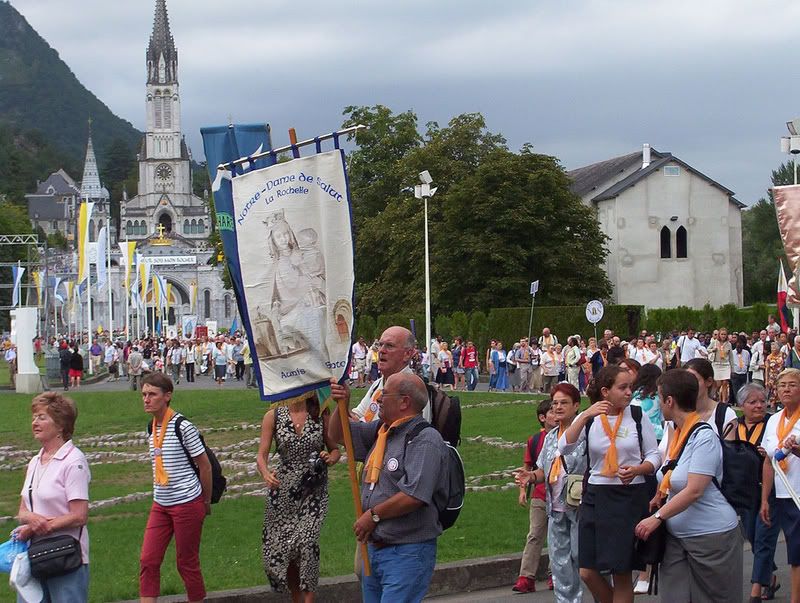 Every nation in the world furnishes its contingent. Out of the total of pilgrimages given above, 464 came from countries other than France. They are sent by the United States, Germany, Belgium, Austria, Hungary, Spain, Portugal, Italy, England, Ireland, Canada, Brazil, Bolivia, etc. The bishops lead the way. At the end of the year of the 50th anniversary, 2013 prelates, including 546 archbishops, 10 primates, 19 patriarchs, 69 cardinals, had made the pilgrimage to Lourdes.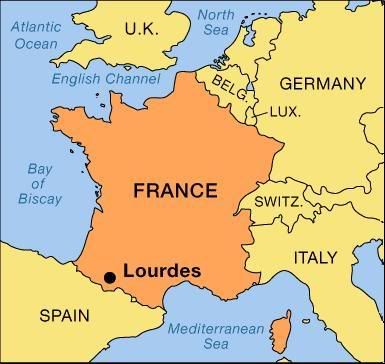 - this post was copied from "Johnny Depp Zone" and was originally posted by DeppintheheartofTexas
Posted by

Suzanne
at 7:57 AM
No comments:

Wednesday, April 18, 2012
Ita Ford

, M.M. (April 23, 1940 – December 2, 1980) was a

Roman Catholic

Maryknoll Sister

missionary to

Bolivia

,

Chile

and

El Salvador

. She worked with the

poor

and war

refugees

. On December 2, 1980, she was tortured, raped, and murdered, along with fellow missionaries

Maura Clarke

, M.M., laywoman

Jean Donovan

, and

Dorothy Kazel

, O.S.U. They were killed in

El Salvador

by members of a

military

death squad

of the

right-wing

Salvadoran military-led government.

Born in

Brooklyn, New York

, on April 23, 1940, Ford was the daughter of William Patrick Ford, an insurance man who took early retirement due to

tuberculosis

, and Mildred Teresa O'Beirne Ford, a public-school teacher. She had an older brother, Bill (1936–2008), and a younger sister, Irene. The family lived at 1029 57th Street in Brooklyn.

[1]
Sister Maura Clarke, M.M., (January 13, 1931 – December 2, 1980) was an American Roman Catholic Maryknoll Sister, who served as a missionary in Nicaragua and El Salvador. She worked with the poor and refugees in Central America from 1959 until her death in 1980. She was beaten, raped, and murdered..., in El Salvador, by members of a military death squad of the military-led right-wing government fighting the leftist Farabundo Martí National Liberation Front at the time of the Salvadoran Civil War.
Jean Donovan (April 10, 1953 – December 2, 1980) was an American lay missionary who was murdered with three nuns in El Salvador by a military death squad while volunteering to do charity work during the civil war there.

Jean Donovan was born to Patricia and Raymond Donovan, who raised her in an

upper middle-class

home in

Westport, Connecticut

. She had an younger brother, Michael.

[1]

She attended

Mary Washington College

in Virginia (now the University of Mary Washington),

[2]

and spent a year as an exchange student in Ireland, deepening her

Roman Catholic

faith through her contact with a priest there who had been a missionary in

Peru

.

[1]

Upon the completion of her

master's degree

in

business

from

Case Western Reserve University

,

[1]

she accepted a position as a management consultant for the

Cleveland

branch of the nationwide accounting firm,

Arthur Andersen

.

[2]

Donovan was engaged to a young physician, Douglas Cable, and felt a strong call to motherhood as well as her call to do mission work: "...I sit there and talk to God and say 'Why are you doing this to me? Why can't I just be your little suburban housewife?' [1]

Dorothy Kazel (June 30, 1939 – December 2, 1980) was an American Ursuline nun and missionary toEl Salvador. On December 2, 1980, she and fellow missionaries Ita Ford, Jean Donovan and Maura Clarke were raped and murdered by members of the military of El Salvador. Kazel was born Dorthea Lu Kazel to Lithuanian American parents, Joseph and Malvina Kazel, inCleveland, Ohio. When she joined the Ursulines, a Roman Catholic religious order. In 1960, she took the name Sister Laurentine, in honor of an Ursuline martyred during the French Revolution. As the Roman Catholic Church modernized during the 1960s, she became known as Sister Dorothy. In the Central American community where she died, she was known as Madre Dorthea (Dorothy).[1] She completed her bachelor's degree and novitiate between 1960 and 1965. Beginning in 1965, Kazel taught for seven years in Cleveland, and did missionary work among the Papago Tribe of Arizona.[1]
* from Wikipedia
"Several times I have decided to leave El Salvador. I almost could except for the children, the poor bruised victims of this insanity. Who would care for them? Whose heart could be so staunch as to favor the reasonable thing in a sea of their tears and loneliness? Not mine, dear friend, not mine." – Jean Donovan
"I hope you come to find that which gives life a deep meaning… Something worth living for – maybe even worth dying for…" -- Ita Ford, in a letter to her niece
"I want to be remembered as an Alleluia, from head to foot." -- Dorothy Kazel
"I don't know what tomorrow will bring. I am at peace here and searching – trying to learn what the Lord is asking. At this point, I would hope to be able to go on, God willing. . . . This seems to be what he is asking of me at this moment." -- Maura Clarke, in a letter to her niece, just weeks before her murder
James, a Michigan federal prison inmate, wrote this letter to the National Catholic Register after reading an article about the four women:
". . . I am 20 years old and in prison. But I need to somehow explain the pain I felt when I read the news of the death of our sisters (in El Salvador).
"Not much in life anymore upsets or shocks me. I did, though, cry and I was moved to learn of what happened. Sitting here in isolation where I read the NCR, I felt a change, I felt the lives of the four (women). I mean, I never knew them but I felt them, I could see them smile and laugh, I felt their kindness and caring for people. This is why I cried, 'Why was it done?' It seemed such a cruel and senseless act.
"All at once I felt hate, sadness, and I really felt pain. I just don't understand! I don't care much about anything, until this day, when I realized how selfish I've been with my own life. I am not a dramatic-speaking person, but if I could give myself to bring them back, I would. By their deaths I felt life; I really felt a need to keep trying and not to give up. . . .
"I will pray for all of you, and at each mass say a prayer for our sisters. . . .
"JAMES"
Posted by

Suzanne
at 11:33 PM
No comments: